I got SO MANY compliments on my white nails this week! I think they looked so well done – the opacity of this nail polish, and the short nails – that so many people asked me if they were fake. Of course, they're not. They're mine and they're spectacular. But seriously, the Sundays polish in 01 Opaque Snow White from The Industry Shop and it is the best I've ever tried and I even had people ask me if they could try it.
Avarelle Pimple patches – they go on totally clear, and help apply a dose of tea tree oil to heal pimples. They are the best-selling pimple patches on Amazon, and they come in larger sizes too so that you can use them on your body.
The Fenty Beauty Cream Blush Duo that's limited-edition and out for Christmas is so good. I use both colours – the mauve one and then a bit of the brighter pink in the centre of my cheek. I also use the mauve shade on my lips and that's how I'm wearing it in my selfie. I love this formula and have this blush in Rosé Latte too and I think I need to pull it out again. It's a cream-to-powder formula that blends really nicely. You could set it but even if you don't, the finish lasts a long time as long as you don't touch your face.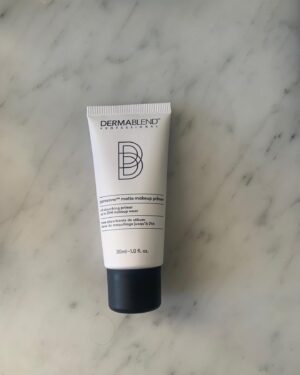 Dermablend primer. This is the best primer I've ever used, so I've gotten rid of any other primers that I had. it's a bit of a watery gel, but it's matte and stays matte. You could even use it on bare skin to take down the shine of sunscreen or apply it when you notice that your face is getting shiny. I even mix my foundation into it and make my own sheer tint that's not at all oily. I'm using the Charlotte Tilbury Beautiful Skin Foundation and the two go well together.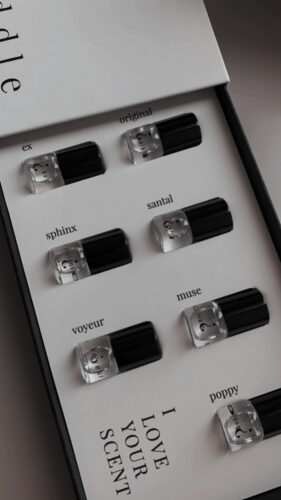 Riddle perfume oil discovery kit. I loved this so much that I took the whole kit to work with me but also brought it back home so I wouldn't be without it over the weekend. I popped off the rollerball and mixed some oil into my body serum.