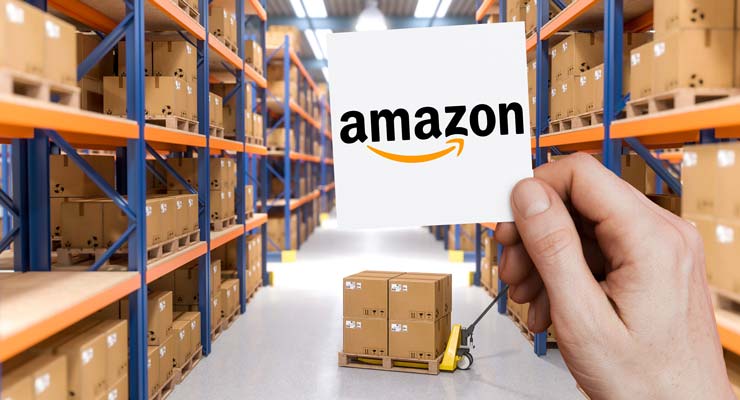 Whether you are looking to grow your business or begin your journey as an entrepreneur, there is no doubt that Amazon is one of the fastest growing channels for sellers. With more than 200 million paid Prime members worldwide and roughly 7,400 products being bought per minute, the marketplace is unrivaled. 
Especially when utilizing Fulfillment by Amazon (FBA), you can just sit back and watch as the money rolls in with little effort. FBA is a service that allows businesses to outsource order fulfillment to Amazon. Businesses send products to Amazon fulfillment centers and when a customer makes a purchase, they pick, pack, and ship the order. They can also provide customer service and process returns for those orders. 
---
Why is Fulfillment Important?
The right ecommerce fulfillment service can give your business a competitive edge. A fulfillment service can help you:
Manage customer orders
Send shipments on time
Obtain current information on products available
Want to attract Amazon Prime customers
Effective, reliable ecommerce fulfillment earns trust with customers and keeps them happy. What if product delivery does not meet customers' expectations, or items are damaged during transit? Fulfillment problems like these can hurt your ecommerce business.
How fast customers receive a product can make or break a sale. A study on U.S. shoppers found:
Free delivery is the most important factor for 83% of shoppers when ordering online.
More than half (54%) abandoned online shopping baskets because of delivery costs.
Fine-tune the fulfillment process or work with a fulfillment service to grow your brand and keep customers happy. Now that you see how valuable FBA can be for your business, it is time to start selling on Amazon. 
---
Register Your Business
In order to start selling on Amazon, you must first register your business through the marketplace. Two different selling plans are offered, called Individual and Professional, and they are based on how many products you sell. 
Individual
You sell fewer than 40 items a month
You do not need advanced selling tools or programs
You are still deciding what to sell
Professional
You sell more than 40 items a month
You want access to APIs and more selling reports
You want to sell with programs like Launchpad or Handmade
The Individual plan costs $0.99 per sale, while sellers using the Professional plan pay $39.99 per month, no matter how many items they sell. If you sell more than 40 items a month, the Professional option makes a lot of sense, but no matter which option you choose, you can change plans at any time.
In order to complete your registration, make sure you have access to:
Bank account number and bank routing number
Chargeable credit card
Government issued national ID
Tax information
Phone number
---
Secure the Necessary Business Licenses
Depending on your location and what you will be selling, you may be subject to needing a business license. Most suppliers will require you to have this already in place before they start to work with you. If you need help, you can check out the Small Business Administration, then reach out to your local Secretary of State. You can also hire an attorney to assist you with the process to make sure you do not miss anything.
---
Learn About the Selling Fees
On top of these plan fees, you will also pay referral fees, which are a percentage of the selling price. This percentage varies, depending on the product's category. For some categories, the fee is as much as 17 percent. If you are selling products in the media category, you will also pay variable closing fees. 
If you fulfill orders yourself, Amazon shipping rates apply, and the rates are based on the product category, as well as the shipping service the buyer chooses. If you opt to use Amazon FBA, you will pay fees for order fulfillment, storage, and additional optional services. These fees can all add up, so in order to fully understand all of the costs associated with utilizing Amazon FBA, the marketplace offers multiple fee estimation tools so you can see what you are up against. 
---
Get Accustomed to Seller Central
Once you register as an Amazon seller, you will have access to your Seller Central account. Think of Seller Central as your go-to resource for selling on Amazon — it is a portal to your Amazon business and a one-stop shop for managing your selling account, adding product information, making inventory updates, managing payments, and finding helpful content to help you navigate your Amazon business. It is also where you list all your products.
Below are just a few of the things you can do from Seller Central:
Keep track of your inventory and update your listings from the Inventory tab.
Download custom business reports and bookmark templates you use often.
Use customer metrics tools to monitor your seller performance.
Contact Selling Partner Support and open help tickets using the Case Log.
Keep track of your daily sales for all the products you sell on Amazon.
---
Research Products & Suppliers
Now that you are accustomed with your Amazon account, it is time to do some research on what is trending and the average price point before listing any products for sale. Depending on the niche you wish to sell in, there are a variety of different trends and prices you need to be aware of so that you actually have a leg to stand on against your competition. Remember, while Amazon is a great marketplace to get brand recognition, thousands of other sellers have the same idea, so researching your category is critical. 
The more time you spend in the product research phase, the better equipped you will be to run your new Amazon business. Selling fees vary from one product category to the next, too, which is important to consider. Follow these steps to get the most out of your research:
Have an idea of the types of products you would like to sell, and separately research each category
Do a simple Amazon product search for the items to see how many companies are selling them and the prices at which they are being sold.

A wide variety of sellers offering a certain product means that the particular item is in high demand, which is good, but it also means the competition for you will be fierce. 
If you do not see many sellers offering that specific item, it could mean it is not very popular, but you also have a better chance of catching the eyes of shoppers since there is little to no competition. 

Search for the products on social media platforms, as well, so you can see if any influencers are promoting them or similar items and get a taste of just how popular the merchandise is. 
Research how much products will cost for you to purchase to see if you can really make a profit by reselling them. A great place to start is through www.WholesaleCentral.com, where you can conduct product searches and see how much wholesale suppliers are charging. 
---
Begin Stocking Up on the Products You Want to Resell
Before you can start listing your merchandise on Amazon's marketplace, you need to ensure you have enough items in stock that your customers can purchase. Wholesale Central is a B2B directory that can help solve all of your inventory needs. With thousands of wholesale suppliers to choose from and a variety of product categories to sift through, they can help make your job as a reseller a whole lot easier. 
Amazon FBA Category
One of the most popular product categories on the Wholesale Central directory is Amazon FBA Suppliers. Here, you can view a list of over 100 verified suppliers selling general merchandise, pallets of products, brand name items, and even some offering services to help manage your Amazon store. 
Other popular categories on the B2B directory include Apparel, Dropshippers, Electronics, Health & Beauty, Jewelry, Smoking Products, and more. Peruse through the list of wholesalers and see how they can help keep your store up and running. 
---
List Your Products on Amazon
To sell a product on Amazon, you must first create a product listing. Either match an existing listing (if somebody else is already selling the same product on Amazon), or create a new listing (if you are the first or only seller).
The specific way sellers upload and list their products varies depending on their selling plan. To put it simply: sellers using a Professional seller account have the option of listing their products in large batches using bulk uploading or inventory management with third-party systems, while Individual sellers list products one at a time.
What You Need to List Your Products
In most cases, products must have a Global Trade Item Number (GTIN), such as a UPC, an ISBN, or an EAN. Amazon uses these product IDs to identify the exact item you are selling. If you match a listing, you will not need to provide a product ID since it already exists. If you are adding a product that is new to Amazon, you may need to purchase a UPC code or request an exemption.
Here are some more factors that need to go into each product listing:
SKU
Product title
Product description and bullet points
Product images
Search terms and relevant keywords
---
Restricted Product Categories
Some merchandise categories, such as certain grocery or automotive products, are known as "restricted product categories." Amazon might require performance checks, additional fees, and other qualifications in order for you to sell certain brands or list items within restricted categories. 
According to JungleScout, here are the categories presently gated on Amazon:
Collectible Coins
Personal Safety and Household Products
Entertainment Collectibles
Fine Art
Holiday Selling Requirements in Toys & Games
Jewelry
Join Amazon Handmade
Join Amazon Subscription Boxes
Made in Italy
Music & DVD
Automotive & Powersports
Services
Sports Collectibles
Streaming Media Players
Video, DVD, & Blu-ray
Watches
---
Amazon FBA
If you plan on using Amazon FBA to ship products to your customers, you will need to sign up for Amazon FBA separately. This is easy once you have already signed up for your selling plan. All you have to do is log in to your Amazon account to get started, and from there, you can add FBA to your account. 
Here is how FBA works:
Step 1:
Ship your inventory to Amazon. It will then be scanned and made available for sale. 
Step 2:
With each order, Amazon packages and ships the products directly to the customer. 
Step 3:
Amazon collects payment from the customer and pays you available funds every two weeks. 
Step 4:
Amazon's customer service team handles questions, returns, and refunds. 
Manage Your Inventory
Now that you have your Amazon FBA account all set up and have listed your products, it is smart to manage your inventory within Amazon Seller Central. There, you will see a dashboard with information to help manage your inventory, product pricing, ads, and more. Seller Central contains built-in free inventory management tools to help you, and every time you create a new product, you will be able to assign SKUs for easy tracking. 
---
Performance Metrics & Customer Reviews
On top of managing your inventory, it is also smart to keep tabs on your performance metrics and customer reviews. This will allow you to grow your business and continue to provide a seamless, delightful shopping experience. Here are some other things you should keep an eye on:
Order defect rate. This is a measure of a seller's customer service standards. 
Pre-fulfillment cancel rate. This is initiated by the seller before shipment. 
Late shipment rate. These are orders that ship after the expected date. 
This way, you can keep tabs on your performance and make sure you are meeting your targets in Seller Central. Customer reviews are also an integral part of growing your business on Amazon, since they can help you to see what your customers like, certain areas for improvement, and allow you to build a reputation so other shoppers can find you trustworthy. 
---
Review Growth Opportunities
Once you launch your business and begin selling products, this does not mean you can sit back and relax. While Amazon FBA does make your job easier, it is important to continue to look for growth opportunities so you can scale your brand more quickly and earn a reputation. 
One way you can do this is through advertising on the marketplace. While certain options can get pricey, ads show up right where customers will see them and are worth the investment. Amazon offers three different advertising solutions, and all of them are accessible through Seller Central. 
Sponsored Products.
These are ads for individual product listings on Amazon, so they help drive product visibility and sales. They appear on search results pages and product detail pages. 
Sponsored Brands.
These showcase your brand and product portfolio. They are search-result ads that feature your brand logo, a custom headline, and up to three of your products. 
Amazon Stores.
Stores are custom multipage shopping destinations for individual brands that let you share your brand story and product offerings. 
---
Become a Great Seller
Speed matters in business. For Amazon sellers, the first 90 days are especially critical for establishing marketing, fulfillment, pricing, and other practices to accelerate performance beyond launch, according to Amazon. Sellers who take these important steps within the 90 day timeframe can generate sales more quickly and establish a reputation.
---
Related articles: