[ad_1]

Chanel has launched the new Summer Nails Collection with six new shades of Le Vernis ($30), a new La Base Camelia ($30) and L'Huile Camelia Hydrating and Fortifying Oil ($32). Every single color is absolutely beautiful for summer. The Chanel team sent over the shades for review and to me they're so perfect, I ordered backups (they're THAT good!). The colors are available online at Chanel.com.
New Summer Nail Colors
There are 6 new Le Vernis Nail Colors inspired by the Sky, Sun and Sea. Chanel did an incredible job with everything from the shade undertone, opacity and smooth finish. Two coats is needed for all the shades. Only one of them applied a little streaky with the first coat but it smoothed out 100% without any issues with the second coat.
Rose Coquillage 925 is a perfect coral peach pink
Blanc Ecume 927 is a pure stark white, but still manages to have a bit of warmth so it doesn't look like white out on the nails (your mileage may vary)
Pastel Sand 929 is a soft peach with that secret shimmer some Chanel nail polishes used to have, it has subtle gold sheen, but on the nails it's more of a cream
Moon Shell 931 is the perfect lilac shade for summer, it has the perfect undertone to be flattering and not too pastel/white
Cap Corail 933 is a gorgeous bright orange coral
Sea Sea Green 935 is a really fun pale green
I really wanted to do a nail wheel swatch comparison to other Chanel & Hermes shades because I know so many of you will ask. I cannot find any extra wheels in my beauty closet but will try to get some and update this post in the next week. For now here are swatches of all six shades. Skintone I'm a Chanel B40/B50. I have been in the sun with a couple boat, beach + kayaking days so I'm starting to get my tan back.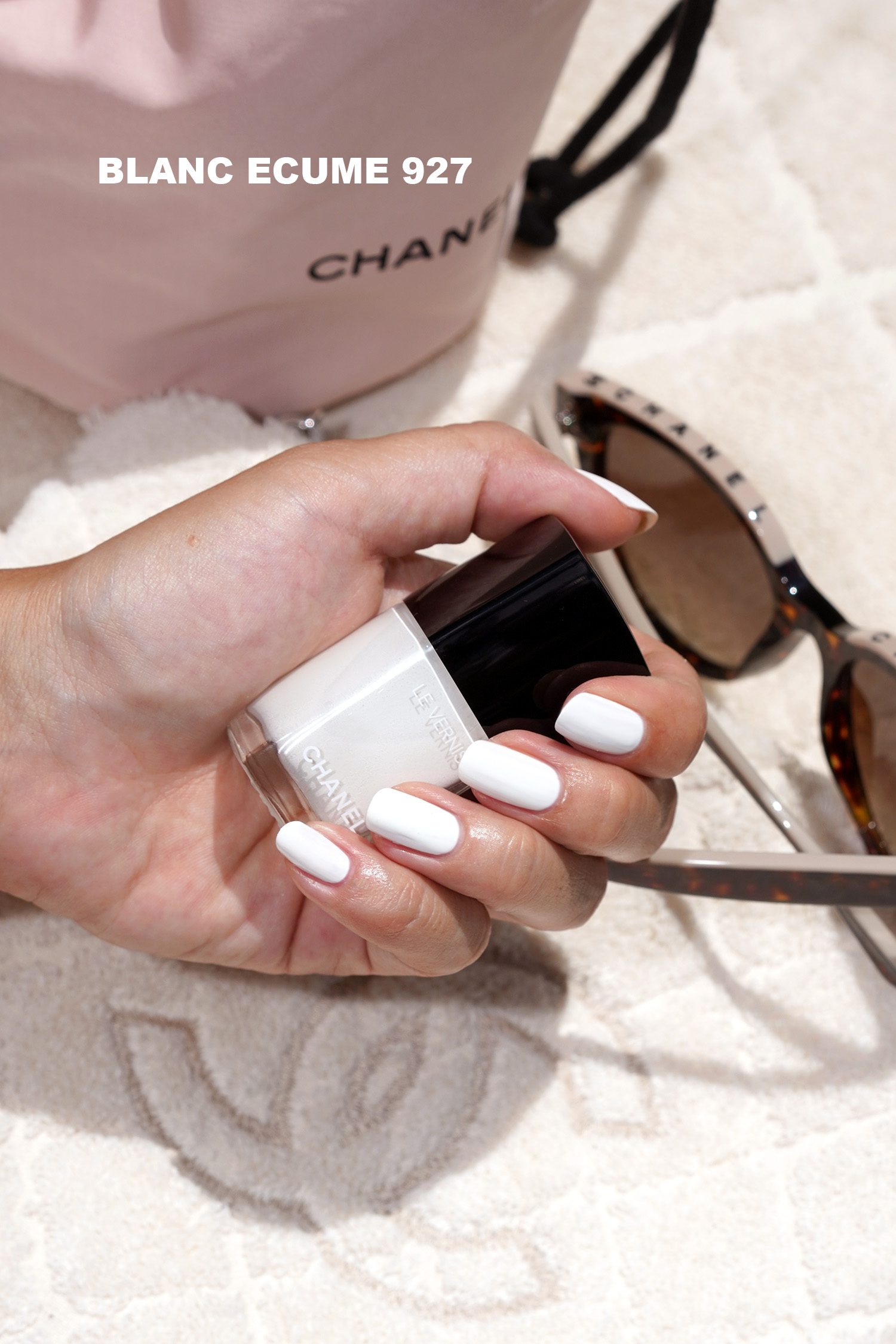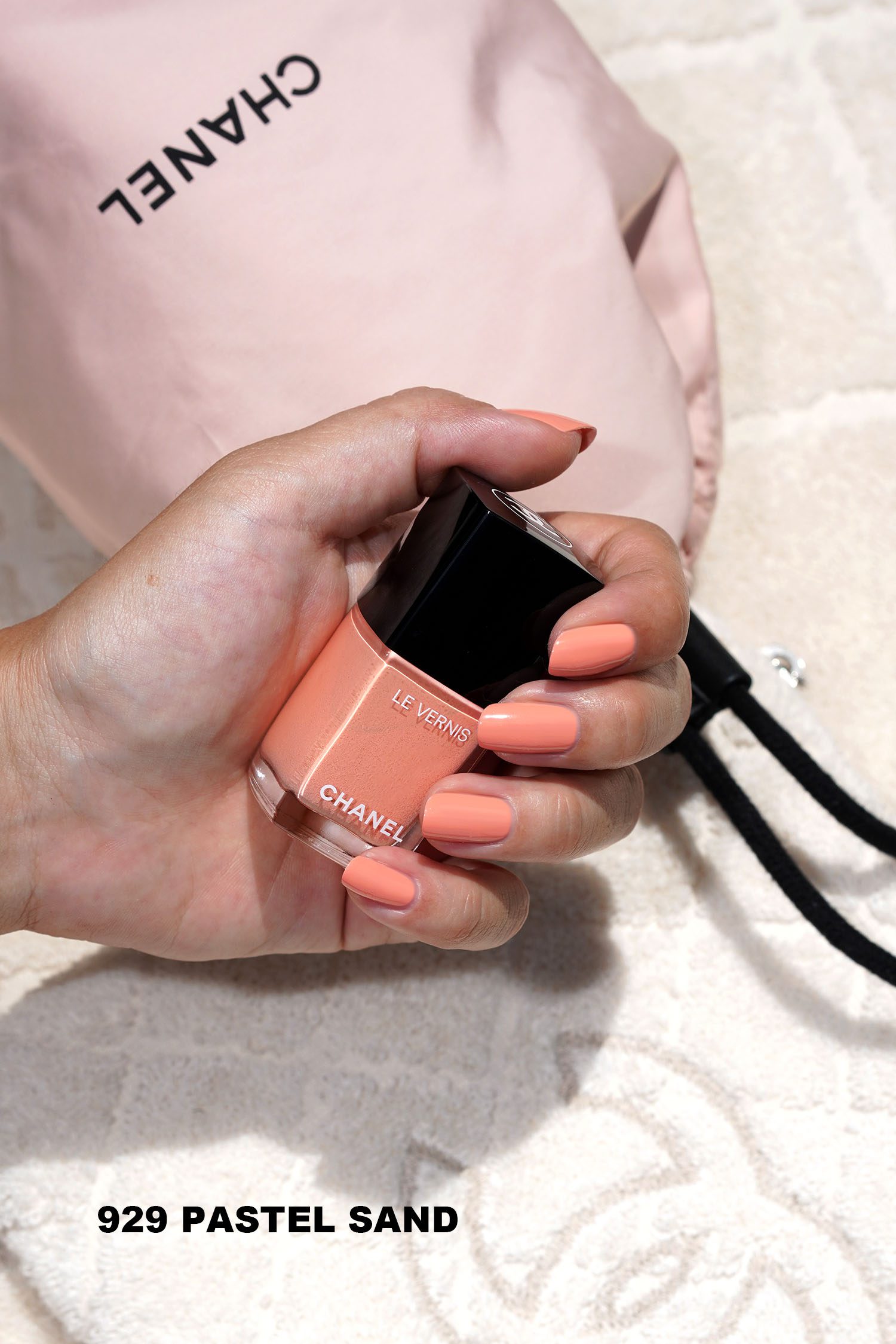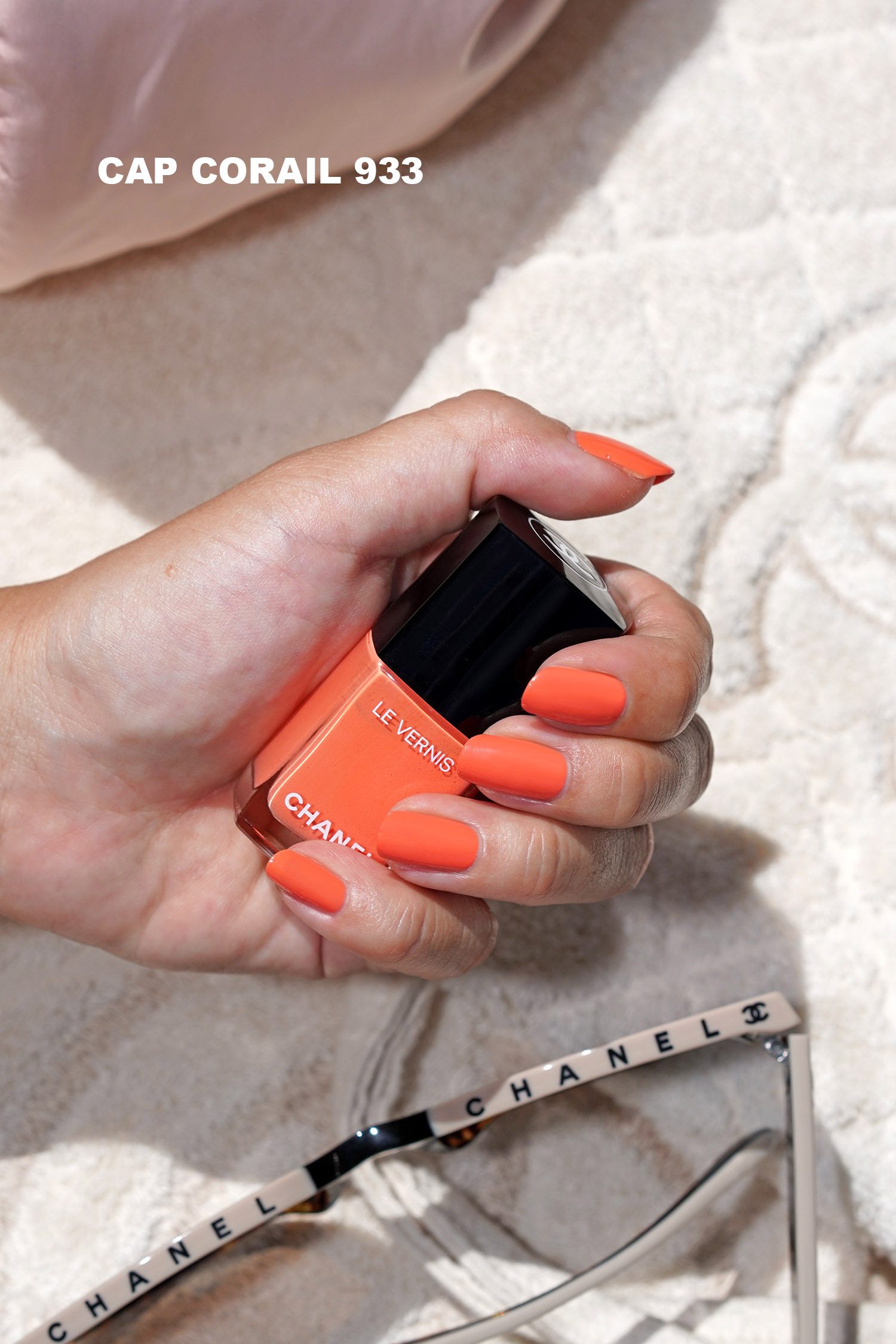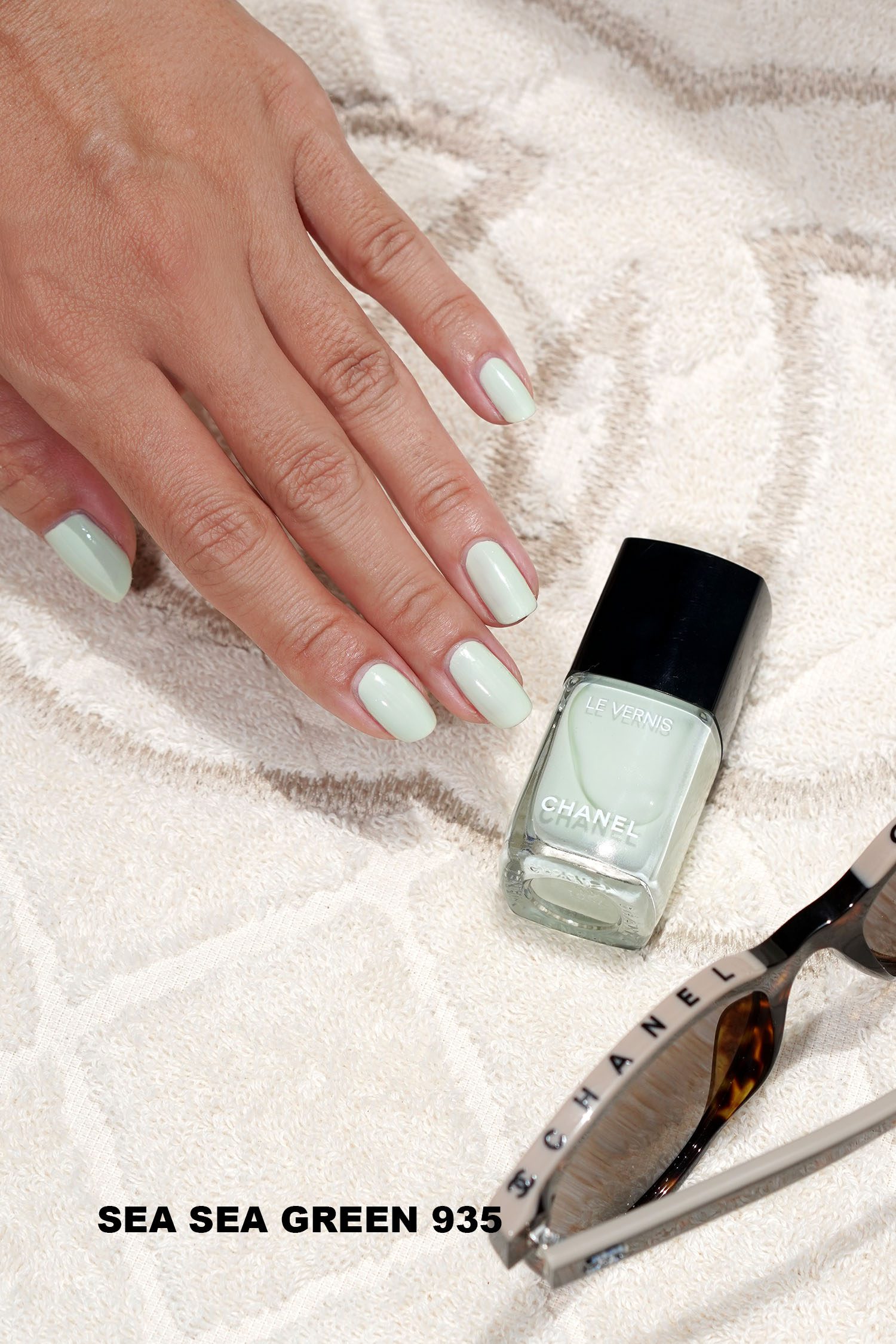 All six side by side:
New Nail Care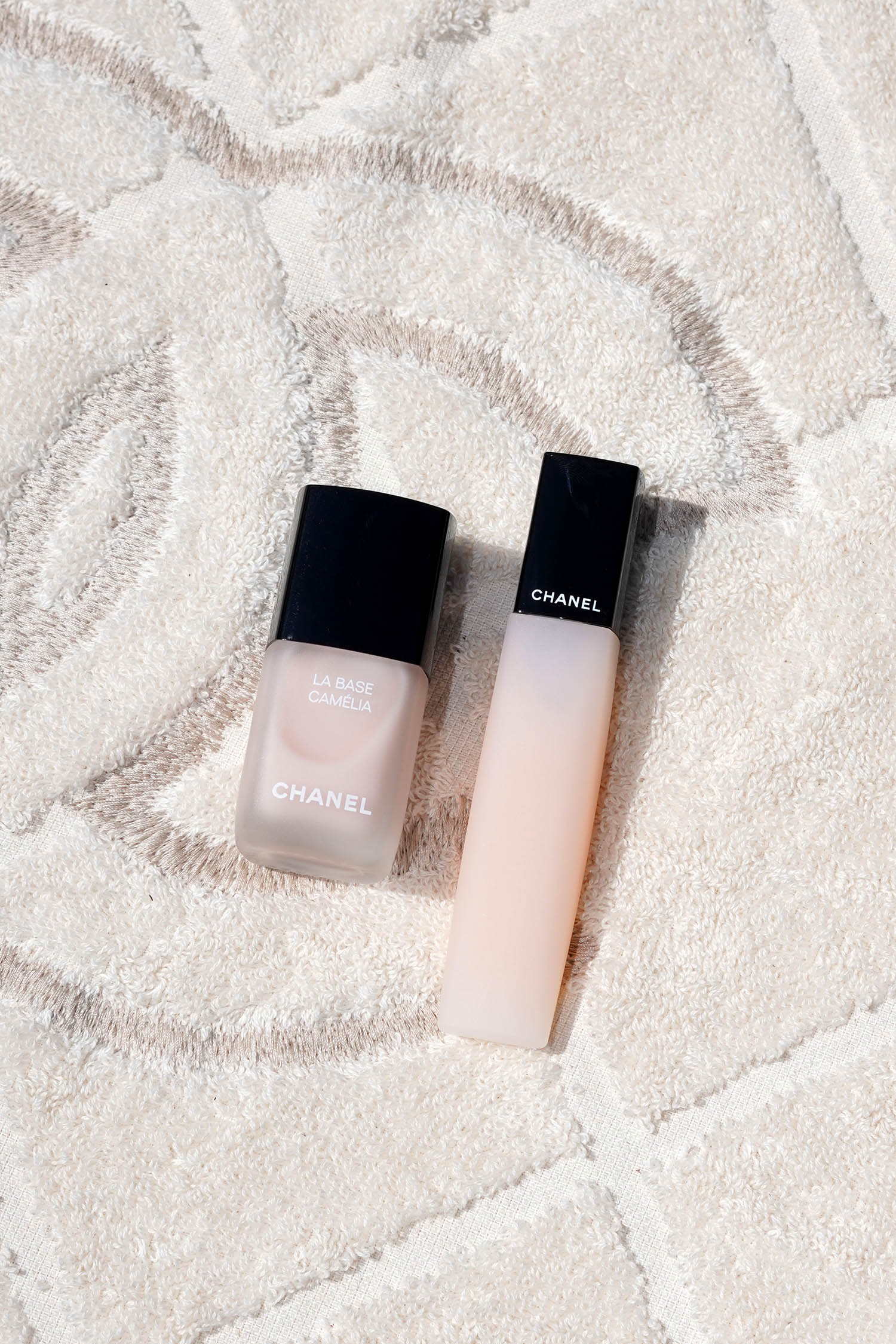 I've been a huge fan of the Chanel Le Gel Coat and Le Top Coat. Their previous base coat was nice but not great (in my opinion). The new La Base Camelia is a really beautiful one that hydrates, protects and smooths. I think it's a really nice formula but I still like the OPI Natural Base Coat for a more affordable option. At this time it seems like they've discontinued the original base coat as the new La Base Camelia is the only one listed on Chanel.com now.
The new L'Huile Camelia Hydrating and Fortifying Oil is a camelia oil that comes in a squeeze tip applicator. The tip looks like it could be a sponge but it's not. It has holes to dispense product. A little goes a long way so you don't need a lot to cover and hydrate. I've only used it a couple times so far so I haven't tested it long enough to speak to the long-term effects. I like it though. It makes the nails look and feel hydrated. Mine get super dry with the sand, sun, salt etc. I think it will be one I'll use up entirely.
That wraps up my Chanel Summer Nail roundup! I really think every single shade is perfect. Sunglasses in the post are the Butterfly Sunglasses I hauled a few months ago. I'll link my reel below if you want to see them in action on the face. You can order Chanel sunglasses online at Chanel.com but I've also spotted them in store at places like Neimans, Nordstrom and Saks.
The Terry Beach Bag is another splurge I did while in Miami a few months ago. I bought it at the Chanel boutique and it comes with a pouch and beach towel. They also had it in Black and Navy. I think by now there are other variations in stores too. I'll link my unboxing/reel below on this one. So many of you asked for a link, unfortunately Chanel does not sell their handbags online. If you have a Chanel sales associate you have worked with they may be able to locate it for you.
What do you think about the Chanel Le Vernis nail colors? I'm not sure if they'll be available at other retailers or of they're a Chanel.com exclusive. At this time each shade has the "exclusive" label on the website. If you have your eye on any colors I'd recommend ordering soon. The nail colors usually sell out quickly!
Available at Chanel.com.
Nail colors and small drawstring pink pouch gifted by Chanel.


[ad_2]

Source link